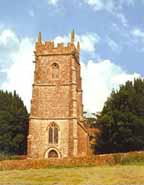 Click to view a larger version of the image.
Photograph Copyright © 2000 Bob Osborn.
William Haskell, my 9th great grandfather, was Churchwarden here in 1627 and buried here May 11, 1630. Seven of his children, Roger, Cecille, William, Mark, Dorothy, Elizabeth and Joan, were baptized at the church as well, spanning the years 1613 to 1629. (source: New England Historical and Genealogical Register Volume LXXXVI). The Church of St Stephen is a listed building in the UK, giving it special protection from modifications. The nave(or main part) of St Stephen was built in the 13th century and its tower dates to the late 15th century, the church is still in use today. For more information about St Stephen, including extensive architectural details, visit the "Images of England" webpage Charlton Musgrove - St Stephen. For more information about the village of Charlton-Musgrove visit the official Charlton-Musgrove website or the Charlton-Musgrove Wikipedia entry.